Sales process works in 2 stages: Estimated Sales and Confirmed Sales.
Estimated Sales.- Sales information we uploaded to the platform (from 10th to 20th each month)
Confirmed Sales.- Each sales report is validated once the channel's payment is done (from 20th to 25th monthly)
NOTE: The process to confirm a sales report isn't something immediate as some channels pay in 60 days (invoice date) and we receive the sales reports with a time lag from 45 to 60 days (after end's period).
Please, keep in mind that since you deliver your release until you can see your account balance it can takes 4 months.
You can see your Estimated Sales in "Analytics" section and your Confirmed Sales in "Reports" section.
Analytics
In Sales Section the system shows you the Estimated Sales Graph until last sales report was uploaded.
The sales are updated monthly between 10th-20th and the info will appear in 60 days. For example, February sales will be uploaded on 10th-20th April. So, to visualize correctly your Sales in the graph you have to select a "starting date" and an "ending date" with not less than 60 days and click on "Reload data".
The system will show the Estimated Sales Evolution in each channel with a different colour: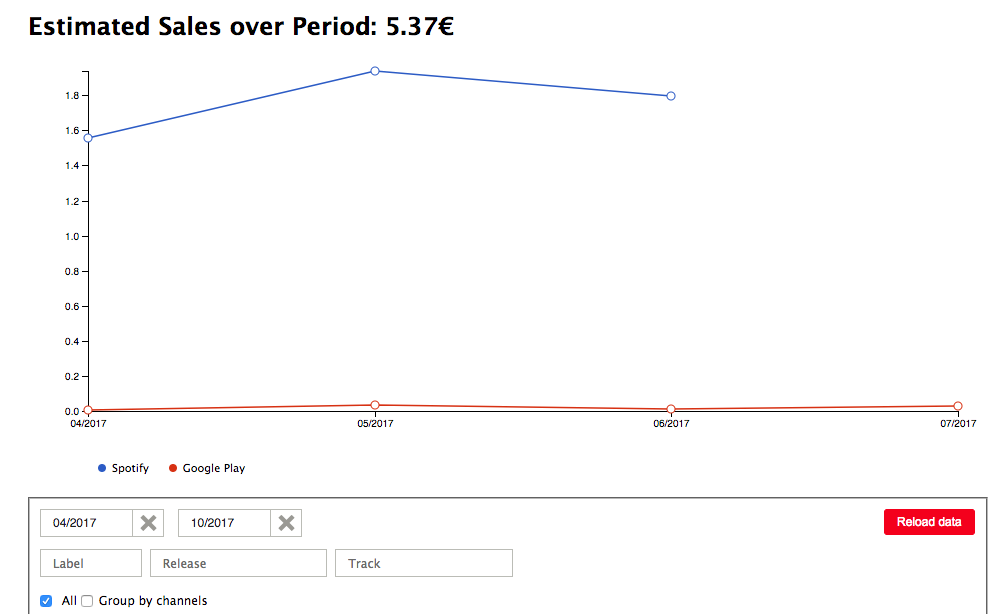 Below the graph you can use different filters so you can analyse your estimated sales according to the following guidelines:
Date/period
Label
Release
Track
Channel
To check the estimated sales from "Rock Classics" release with Label "La Cupula Music" during the period from 01/2015 to 12/2015 in iTunes, please look how will appear:
Clicking on "Reload Data" you will see the graph sales during the selected period and filters: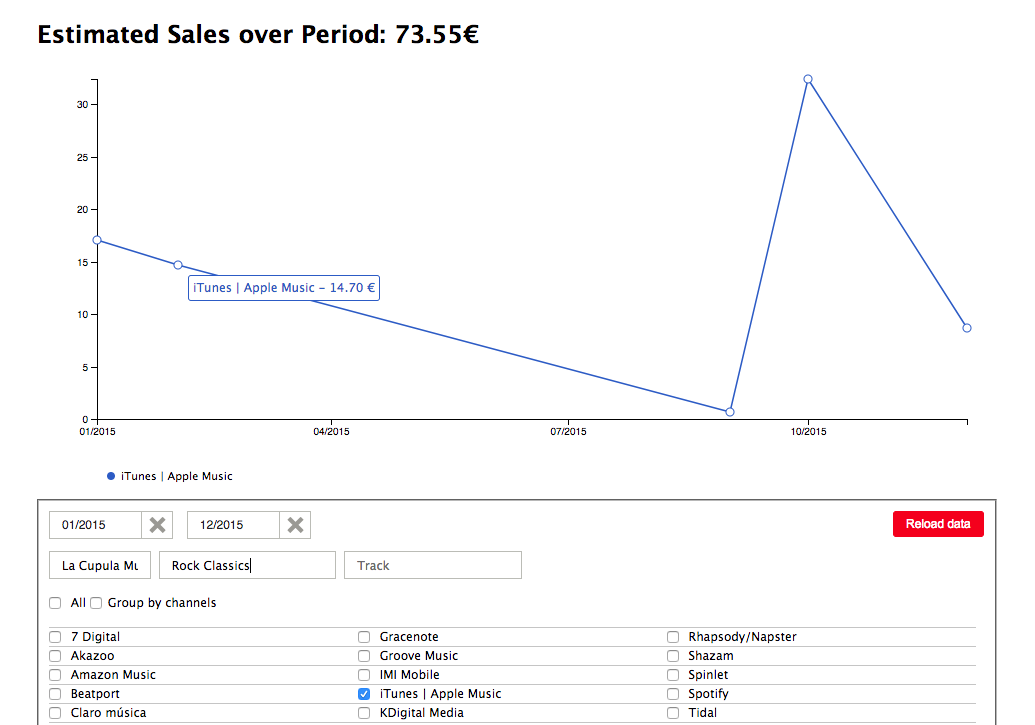 In this example, the sales from "Rock Classics" release with label "La Cupula Music between 05/2015 and 10/2015 in iTunes were 73,55€.
If you place the mouse on any graphic points, you will see the respective amounts in concrete periods: During January for example, the sales from this release were 14,70€.
Reports
In the section ¨Sales-> Reports¨ you can check your sales reports. They are already processed, confirmed and added to your Balance.

Here below the reflected information:
Report date: confirmed sales date from a certain channel.
Channel: Channel report.
From....To...: Report period.
Transactions: ?
Downloaded: ?
EUR: report total amount.
In this example we can see a report from 1 June to 30 June uploaded and confirmed on 31 October.
The generated sales included in this sales report is 203,42€.
With the option ¨Download csv file" you can download a file that contains all transactions included in this sales report. This information is totally transparent, as we transfer the exhaustive information that each channel share with us.
With the option "Download unconfirmed sales reports" you can download a file with all the transactions that have been uploaded to the tab "Analytics" but still not confirmed (because La Cupula Music haven't received the channels payment yet).

Once you have these files downloaded, you can open them with Excel or a similar program. You can see here how to do it!
Balance
In the section "Sales>Balance¨ you can see you real balance as well as all different history transactions: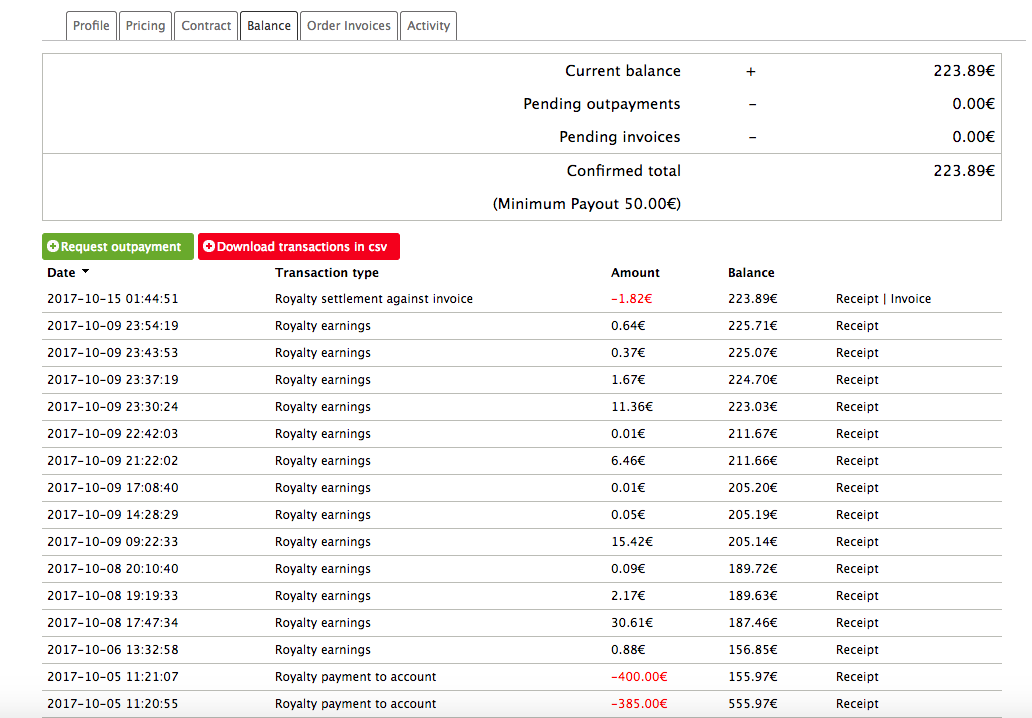 Here we find the following information reflected:
Current balance: Reclaimable balance in your account
Pending outpayments: Here is indicated the requested plays/downloads that we have to pay to you.
Pending invoices: if you have a pending invoice payment, you will see it here discounted.
Confirmed total: Reclamaible balance. As long as the balance reachs the minimum of 50€, you can request the payment with "Request outpayment" button
Date: Accounted transaction that influences in your balance.
Transaction type: Here appears your earned sales (Royalty earnings) or if you used the balance for a distribution service (Royalty settlement against invoice) or the payment balance that you already received (Royalty payment to account)
Amount: Transaction total amount
Balance: Acumulated balance after transaction
Through Search engine you can search transactions by date, amount or a specific date range.

If you click on "Receipt" button you will see the transaction receipt file that you can print or download.