In the "5. History" tab of every release you can access to the delivery history of an album, single or EP.
The following information is available: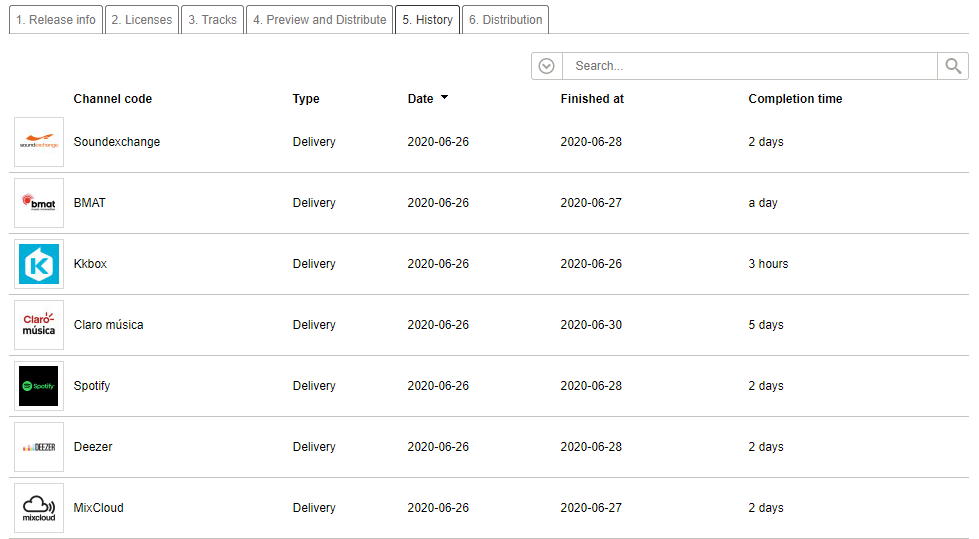 Channel Code: it indicates the Channel an album has been delivered to.
Type: Here is indicated if the last action requested is a Delivery, Update or Takedown.
Date: the date on which the request of an action was made.
Finished at: the date on which the action was completed.
Completion time: it indicates how long it has taken in total before the action was completed.
In the example above, the album delivery request was made on 2020/06/26, it was completed a few days after, taking between 3 hours (KKBox) and 5 days for its delivery.
Apart of the delivery history about every channel chosen for the distribution, the QC approval history is also available.
The information available appears ordered starting from the last action requested.
You can order the information per Channel, Type and Date. Moreover, you can search for a particular channel with the search field on the same tab.

For further inquires regarding digital distribution do not hesitate to write us to support@lacupulamusic.com.